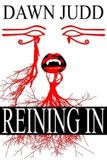 Reining In - The Network Book 1
The Network
Being a vampire in the 21st century is not as easy as one might think, especially when the vampire has decided to become part of society once more. Social security numbers, driver's licenses, and vehicle registrations are some of the every day things that modern day vampires have to get around. After all, government officials start to suspect something's up when the same name pops up over centuries. Gathering some of the most talented people in the world, Khalida has created the Network. Their only job is to protect Khalida and keep her from being discovered, and they are good at it.
The Family
After thousands of years of hiding, running and fighting, Khalida finally finds people she can trust; people she can love. A select few, she considers to be family. Raymond, Jake, Mack, Marlene, and a few others, will become something she never fully had; a family. She will do anything to protect them. Anything
The Past
Being a vampire does not come without its downfalls. Enemies have been made and alliances have been broken. Khalida's secrets from her past may very well topple everything she's built and destroy the family she loves. Ultimately, she will have to choose between a past she's protected her entire life and the family that has sacrificed everything for her.
Purchase your Copy Today!
Amazon
With Jake gone, and a feeling of constant guilt over being forced to kill Vyktor, Khalida has spiraled into a deep depression. Everything she has worked so hard for is now gone. With only Mack and Darren at her side, Khalida must find a new reason for living. When she discovers a secret Vyktor was keeping from her, she begins to see a light at the end of the tunnel; a chance for redemption.
Hope is a typical teenager who has lived a normal live up until now. As her 18th birthday approaches, strange things start to happen to her. She has always thought there was something odd about her family, but she begins
to suspect there is more to it than she thought. When her family finally reveals their secret to her it will shake the foundation of her beliefs.

The Shortcomings of Pen and Paper - A Collection of Poetry by Dawn Judd
Dawn has been writing poetry since she was in grade school. Most have been tucked away for nearly 20 years. A select few have been shared with the world in anthologies such as Timeless Voices and Touch of Tomorrow. After keeping most hidden from the rest of the world, she has finally decided to pull the collection together. Shortcomings is a lifelong work, and a rare look into Dawn's innermost feelings.
Serum
What starts out as a minor epidemic soon turns into a global threat. With a deadly virus snaking its way through the world's population, scientists scramble to find a cure before it's too late. A seemingly unknown pharmaceutical company presents it's "cure" to the world, but Dr. Trudeau and her team have their doubts. What they discover convinces them it may already be too late.